Fuel Cell Vehicles and Stationary Power
Fuel cell vehicles (FCVs) have the potential to significantly reduce our dependence on foreign oil and lower harmful emissions that contribute to climate change. FCVs run on hydrogen gas rather than gasoline and emit no harmful tailpipe emissions. Several challenges must be overcome for them to be competitive with conventional vehicles, but their potential benefits are substantial.
Stationary fuel cells are now emerging as a true alternative to combustion heat engines for the production of electrical power and the co-generation of a thermal product. This is happening at a time of great change in the thinking about the generation of power with new products at the point of use offering the promise of reliability, power quality, lower operating costs, remarkably higher system efficiency, and the production and utilization of direct current. These stationary fuel cells take advantage of heat that would otherwise be wasted and also run very quietly and emit virtually no pollutants.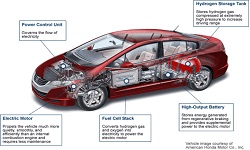 Related Conference of
Fuel Cell Vehicles and Stationary Power
Recommended
Sessions
Related
Journals
Are you
interested

in